This tutorial explains the steps to create PDF from Impress presentation in LibreOffice.
While working with presentations in Impress, it is often needed to send the presentation via email or any other medium. And it is easier to send as PDF after exporting the Impress presentation file as PDF is a widely recognized file format.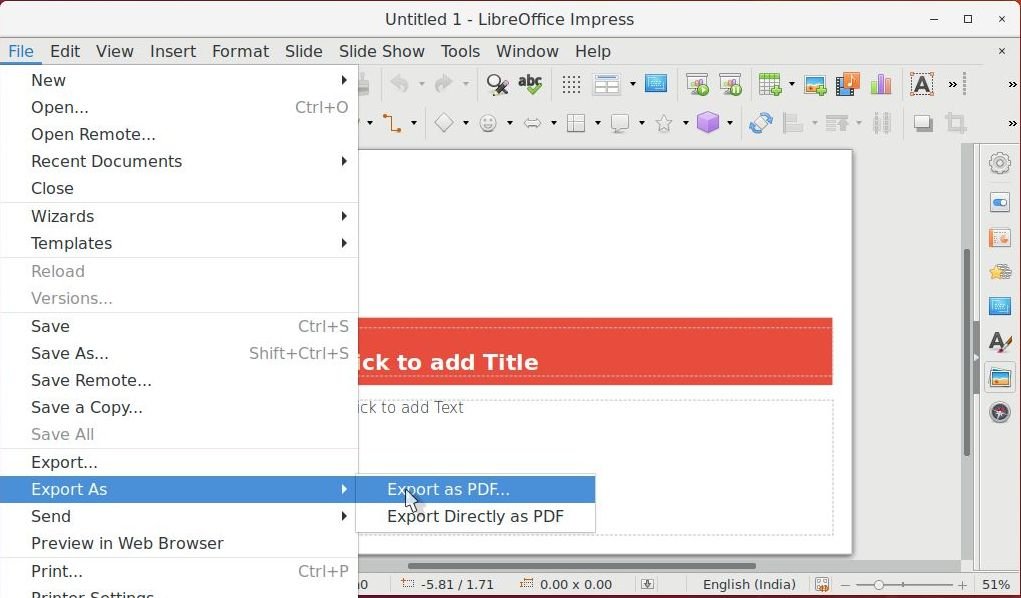 LibreOffice provides PDF export options with extensive features. Even LibreOffice Draw provides a way to edit PDFs for free.
However, this is how you can do it.
Steps to Create PDF from Impress Presentation
Open the Impress presentation.
From File menu: File -> Export As -> Export As PDF
On the PDF options dialog, you can choose any options you want for the PDF.
The PDF options dialogs give you options such as

Export all slides or custom slides
The compression level of images
Watermark in PDF
PDF format
Bookmark
Add password to PDF
Digital signatures
If you are not sure about the options, you can keep the default settings.
Click on Export and save the PDF.
This is how you can create PDF or Save As PDF or Export PDF from Impress presentation.
Do let us know in the comments box below if this article helped you.
---
Looking for something else?
Read our complete tutorial index of Calc, Writer, Impress and Draw.
---
---