This beginner's guide explains how you can add custom slide animations or transitions in Impress Slides.
Slide transitions and animations are very easy to add in LibreOffice presentation program – Impress. These are often added to make the inter-slide movement more interactive during a presentation. This is how you can do it.
Add Animation and Transition in Slides
Open a blank Impress presentation or open your own presentation where you would like to add the slide transition or animation.
Open sidebar (CTRL+F5) or select from menu View -> Slide Transition. On the sidebar you would see slide transition settings.
Select the slide where you would like to add transition.
Double click on the slide transition type which you would like to add. Once you do that you would see a small star icon at the left-bottom of the selected slide in left slide list pane. This means the transition is applied to this slide.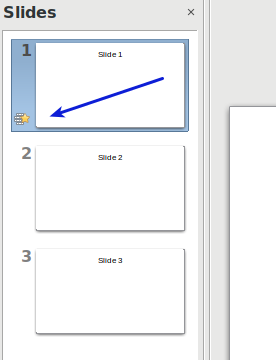 You can modify the transitions based on Variant (e.g. For Wipe transition whether it would be bottom-up or left to right etc), duration of the transition and also you can add sounds as well.
Also you can add settings how the transition would start from Advanced Slide settings. You can select to start the transition On Mouse Click Or automatically after any given seconds.
You can repeat the steps for each slides for custom transition to different slides. Or you can select one transition and click on the Apply Transition to All Slides to apply to all available slides in your presentations.
Available Transitions
Below screenshot shows the available transitions for Impress (6.2.x).
Preview the Transition
To preview the applied transition, press F5 or click on the Play.
Remove Transition from a Slide
To remove transition from a slide, select the slide and apply 'None' transition from the available transition list. This will remove the transition and its options from the current slide.
Conclusion
This is the easiest way you can apply slide transitions/animations in LibreOffice Impress. Drop a comment below if you have any questions.