This Writer advanced tutorial explains how to change margins in Writer – LibreOffice, OpenOffice.
Margins are very easy to change in LibreOffice Writer – the document processor. When you are trying to fit a document in some layout/ trying to print in a different page type – you need to change the margins.
This is how you can do it.
Change Margins in Writer
Open an empty writer document and put some text into it. Or you can open your own Writer document.
Open from the menu – Format -> Page. On the Page style window, click on the Page tab.
On the Page tab, select the left – top – right – bottom margins in inches. Then press OK. You would see the custom margins are applied.
If you are using the latest Notebookbar Tabbed layout, you can find the Margin option in the Page Layout tab as below which gives you all presets and custom margin options.
There is another alternate way as well. While the document is open, open the right sidebar using CTRL+F5. Click on the settings gear icon and click Page.
Under the format section, select your desired pre-defined margins to apply to your document.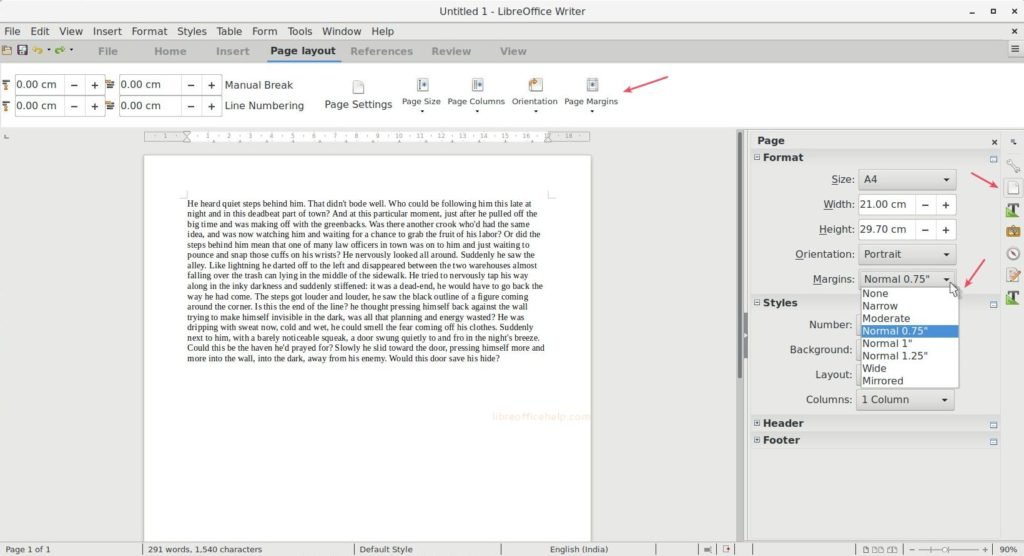 Zero Margins
One of our readers asked in a comment about how we can set zero margins. Well, that is also possible. On the right side, under format choose Margins = None. Once you do that, you should see the texts resized to the extreme edges of the four sides. See be the example image to get an idea.
Conclusion
This is how you can quickly change, and add margins in a Writer document.