This quick guide explains how you can remove duplicates in LibreOffice calc list. And it's super easy.
If you used Microsoft Excel, you might have already known that it provides an option in the ribbon to remove duplicates.
However, there is no direct option to remove duplicates in LibreOffice Calc. You have to use the advanced filter and a trick to achieve this. Here's how.
I'm going to explain two different method to do this. The first method uses a helper column to actually remove duplicates. And the second method is to hide the duplicates and filter the rest.
Method 1: Remove Duplicates via helper column
For example, you have the following set of data. I want to remove the duplicates from Column A. For better understanding I have highlighed them in RED.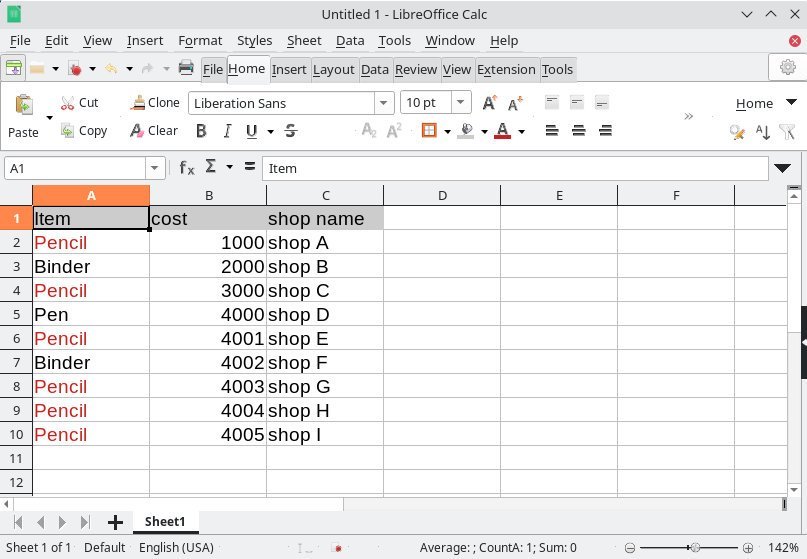 Follow the below steps.
Add a helper column – say column E. Put value 1 as the first value and drag it till the end of your data set. That means this helper column should fill up 1, 2, 3…. and so on. The column D is the helper column in this example.
Now, select the entire range (A1 to D10 in above image) and Sort (Data > Sort) by the column where you want to find duplicate. So, I have selected A1 to D10 and sort by column A in this example.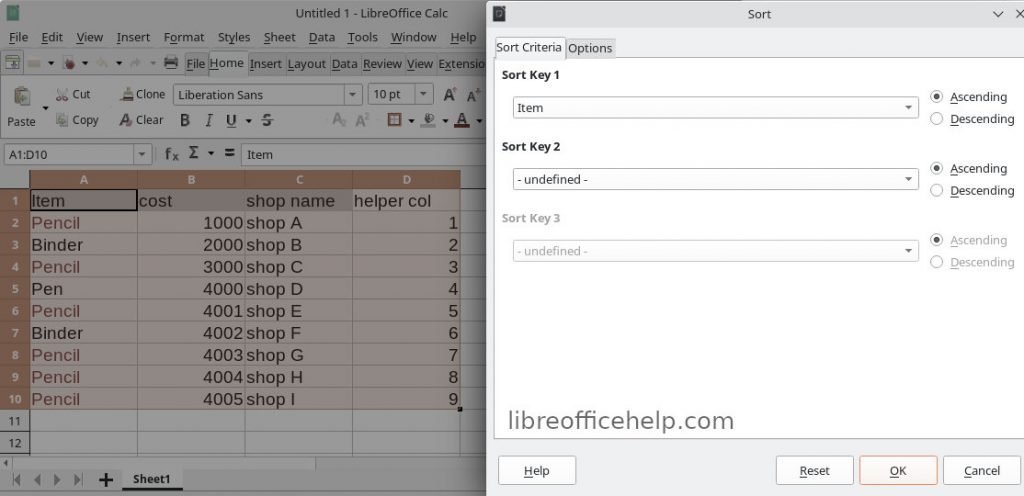 After sort you should see the column A is sorted. Now add another helper column and add this following formula by skipping the first row. For this example I have added Column E and the formula at E3, skipping E2. You need to change the formula based on your target column.
=IF(A3=A2,1,0)
Explanation: Since the column A is sorted, the same values should appear together! Hence, I am putting an IF function to find what are those same values. If they are same, let's put 1 in the cell, otherwise 0.
So, after adding the helper column it should look like this. You may notice the 1 values are the duplicate ones.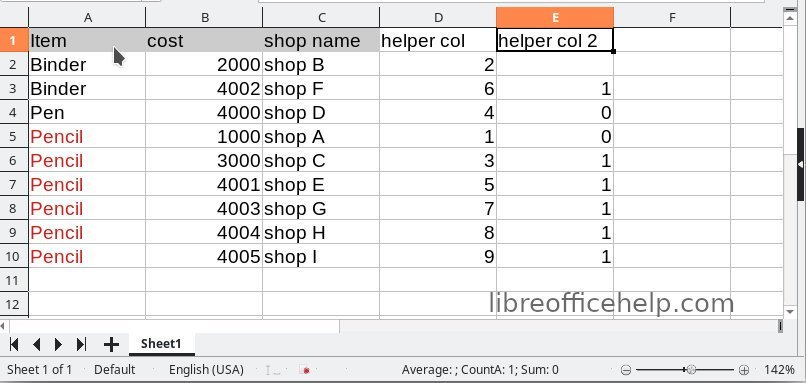 Now filter only 1 from column E. And you have your duplicate data. Now select the rows, right click and choose delete rows. This will delete the duplicate data.
Remove the filter from all the columns. And you have the cleaned data without duplicates.
Now, you might be thinking what about the helper column 1 which we have added. Well, since you sorted the data, the actual order is not present. So, to go back to your original order of data, simply sort in ascending order on the helper column 1 (i.e. column D). Since it was having chronological numbers, you should get back the original order data without duplicates!
That's it. It's easy, isn't it? Checkout the video for the above method.
Video – Method 1
However, there is another easier way, see below.
Method 2: Remove Duplicates via autofilter
It's easier to understand with an example. We have this list of items with the following data. The duplicate values are colour-coded as below.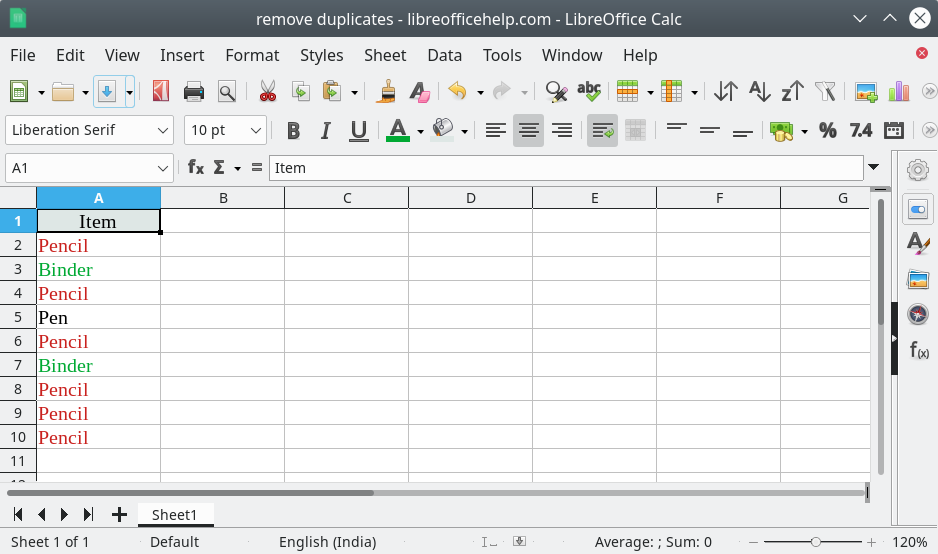 To remove duplicates, select the list. And then, from the menu, click on Data -> More Filters -> Advanced Filters.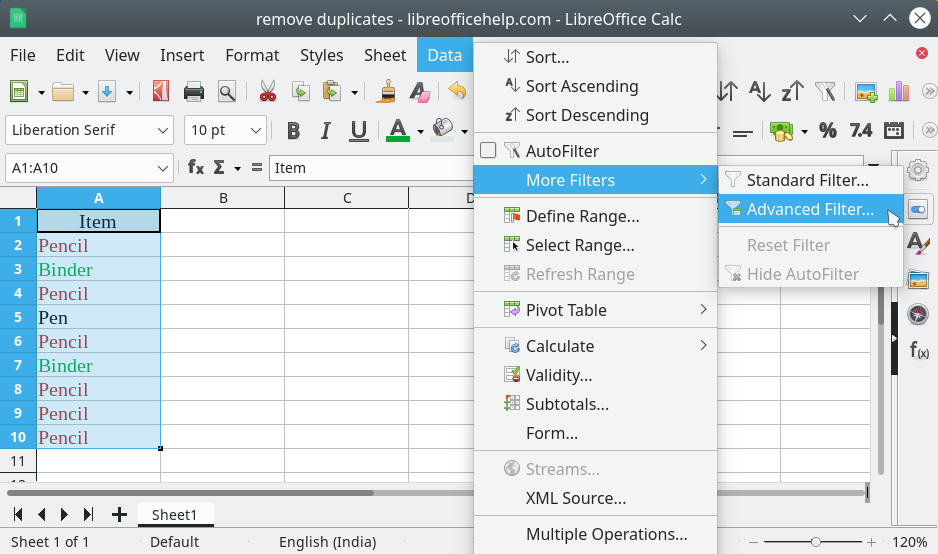 On the Advanced Filter window, select the range for removing the duplicates. It can be a single column or multiple columns of data of any size.
Then select the option "No duplicates".
Press OK.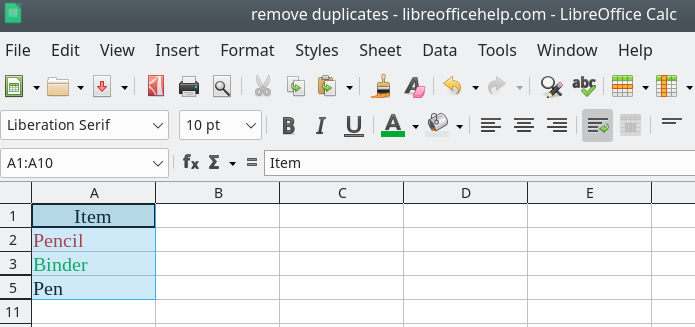 And there you have it. Your data set without duplicates. Now you can copy the unique data to some other sheet or workbook for further analysis and processing.
Common Errors and Usage Notes
The above method 2 just show you the unique data items by hiding duplicate rows. If you look at the above image, you can see the row 3 and row 5 is shown. That means, row 4 is hidden. Unfortunately, LibreOffice doesn't have functionality as of current version to delete everything duplicates and show you unique values in a chronological order.
So, once you have the above list, you need to copy them to a different sheet or workbook for your further processing.
If you are receiving any of the below two errors, then make sure to

select the range

and the

range is visible

in the text box under 'read the filter criteria from'.

Video – method 2
If you still have doubts, I have put up a quick video below. And don't forget to subscribe to us on YouTube!
Wrapping Up
As the LibreOffice Calc doesn't provide a simple enough quick option, you have to follow this way to remove the duplicates. Do let me know which method worked out for you.