This tutorial explains how to paste only format and value in LibreOffice Writer and Calc programs.
You often need to clean up data after removing the formats such as date format, number format, etc. Also, it is sometimes required to copy a format from a cell (not the value) and paste it to another cell in LibreOffice Calc.
You can't imagine how it is helpful in difficult situations while processing data. Hence, in this tutorial, I will show you how to copy and paste format (s) or value(s) in LibreOffice Calc and Writer.
Paste Format(s) and Value(s) in LibreOffice
Calc
Firstly, think about the following set of data (Figure 1). The first row has the background colour=yellow, and the first column has the DATE format.
So, I would so you how you can copy the first column date format itself (not the values) and paste it into another cell – say Column F (Figure 2). Let's put some well-formatted dates in Column F.
So, I will copy only the format of dates from Column A (which is MM/DD/YY) and paste only the format.
Firstly, right-click on Column A and choose Copy. Then select all the data in Column F, i.e. F2:F9.
Secondly, right-click on column F (anywhere) and select Paste Special > Paste Special, as shown in Figure 3.
Then click on Formats Only (also check format is selected under Paste) as shown in Figure 4.
Finally, you should see (Figure 5) that Column F is changed, and the format is now the same as Column A. Moreover, you should also notice that the values of Column F remained the same.
So, that's how you can copy and paste the format only in LibreOffice Calc.
Alternatively, for various purposes, you can also try other options such as Paste Text, Unformatted Texts, Number and Transpose, as shown in Figure 3.
Copy and Paste format in Writer
The copy and "paste as" format in the Writer document is a little different than Calc.
How?
In Writer, right-click on the text that you want to copy. Then, select "Clone Formatting" from the context menu, as shown in Figure 6.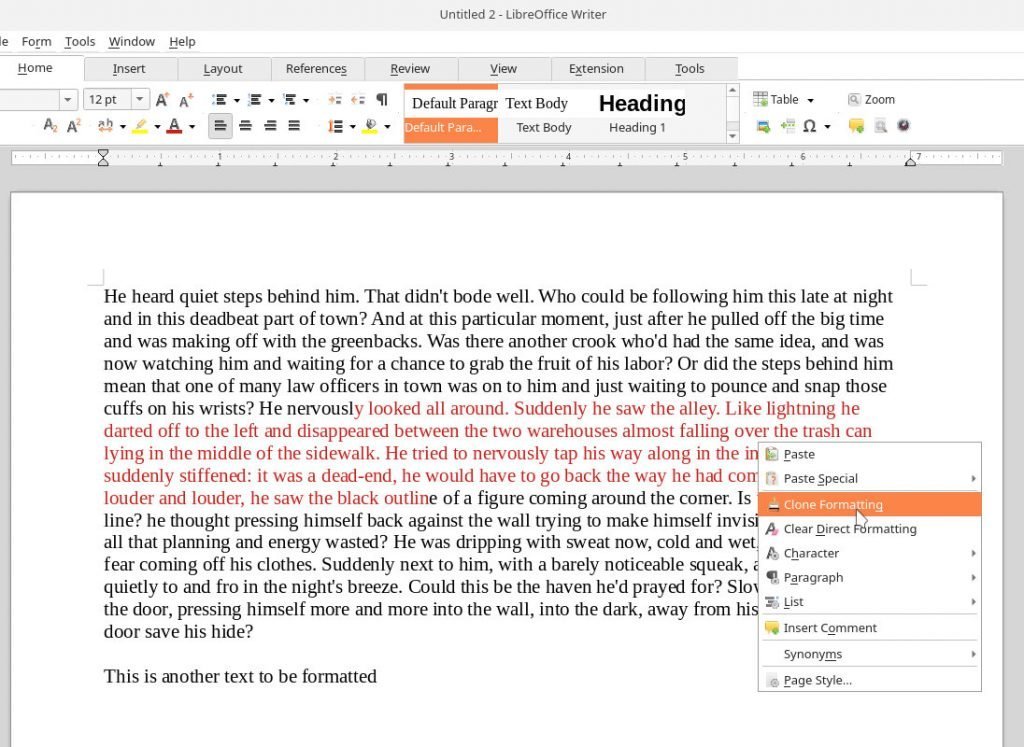 Once you do that, the cursor would become like a "paint bucket".
Now drag and select the target text where you want to paste the format values.
See Figure 7, for example.
And that's how you can clone format in Writer.
Closing Notes
I hope this guide helps you learn how to copy and paste formats only in LibreOffice Calc and Writer documents. Also, you can improvise the above learning with other "paste special" options.
Don't forget to comment below if this article helped you or if you face any problems.