A simple tutorial showing how you can create a master document by merging many files in LibreOffice.
Breaking up a lengthy piece of writing into smaller, more manageable chunks is often a more effective approach than trying to fit everything into a single file. And when it's time to combine these smaller documents into one cohesive file, LibreOffice Writer's master document feature can come in handy.
Here's how you can do it. Before trying it out, make sure you have the sub-files or the files you want to merge. To demonstrate this, I have created two sample files:
sub-doc1.odt
sub-doc2.odt
Create Master document in LibreOffice: Steps
Open LibreOffice Writer.
From the file menu, select New > Master Document.
This option will open up a new LibreOffice Writer window with a master document popup Navigator having several controls.
In the Navigator toolbar, select Insert > File.
Browse and select all the files which you want to combine into a master document in LibreOffice Writer.
Once you hit Insert, you should see the contents of all the documents are put together in the master document.
You can now Export this document to PDF or ODT or DOCX format as you want.
Remember, exporting the document will not save the master document.
The master document file format is ODM which you need to save separately. This helps if you want to make changes to the master document again.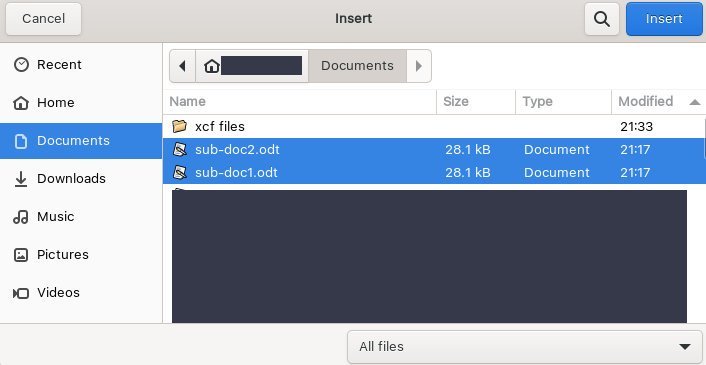 Usage Notes
When you create a master document (*.odm) from multiple files, the ODM file contains links to the combined files.
If you change the sub document contents, they will be automatically reflected into the master document (*.odm).
You will get a popup when you try to open a *.odm file with changed sub-files.
Remember, if you export the odm file to docx, pdf, epub, etc – then they will NOT be updated with changed contents. You need to export them again.
Wrapping up
In this guide, you learned how to properly organize your work with master document feature in LibreOffice. Effective use of this feature is productive and hassle free for many use cases.