This tutorial will explain how to delete blank rows from LibreOffice Calc sheet.
Here are the steps.
Say, you have a Calc sheet with below data and some blank rows. Red arrows marked in below image identifying the empty rows.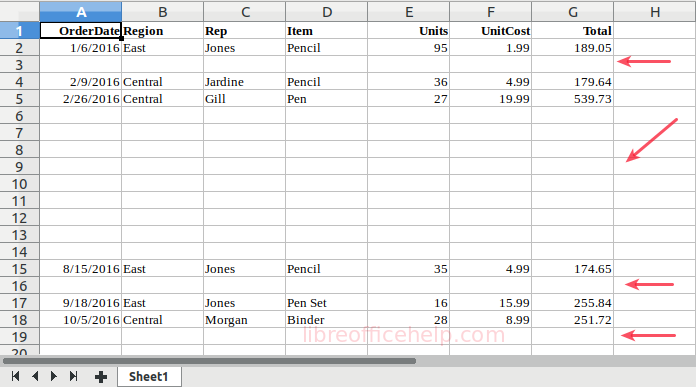 Step 1
Click on the top left section of the sheet – between A and 1 to select the entire contents of the sheet.
Step 2
From the menu, select Data -> Auto Filter.
Step 3
In the cell A1, click on the filter drop down and select Empty.
Step 4
After above step, all the empty rows would be shown. Select all the empty rows till end and click Delete Rows.
Step 5
After deleting the rows, click on the filter at A1 and select all, press OK.
This would show you the final data with all the blank/empty rows removed.
This is how you can remove empty rows in LibreOffice Calc.
Drop a comment using comment box below if you are facing trouble with Calc or having any questions.