This article explains how to perform basic search and replace in a Calc spreadshet.
Find
Spreadsheet may contains thousands of data. Find or Search functions used to locate a string/text in a spreadsheet. You can find option in Calc Menu : Edit -> Find.
After clicking the Find from menu, the main dialog appears at the bottom of the Sheet with a textbox where you can type the text you want to search. Then hit the Find Next (down arrow icon).
As a result, you can see the first hit is highlighted/ selected in the sheet if the text is found.
If you keep clicking the Find, Calc would show all the matching strings one-by-one.
Find All
A text may appear multiple places in a sheet. The Find All button searches for all matching texts together and highlights them. Calc also shows a popup dialog with the list of cells numbers where it found the text. Find all also searches multiple sheets for the same text and popup dialog shows the sheet name as well.
Replace
Replacing a text is easy in Calc. Open the Find and Replace dialog from the Menu: Edit -> Find and Replace.
The find a replace dialog shows two main text box. Enter the text you want to find in the Find text box. And enter the text which you want to be replaced with in the replace text box.
As a result of clicking the Replace All, all the matched text from find text box would be replaced with the replace text.
Find and Replace in a Selected Range
LibreOffice Calc find and replace dialog searches and replaces strings in entire sheet. However, it is often needed to perform find and replace in a selected ranges but not in entire sheet. Here's how you can do it:
Select a range where you want to find a text and replace.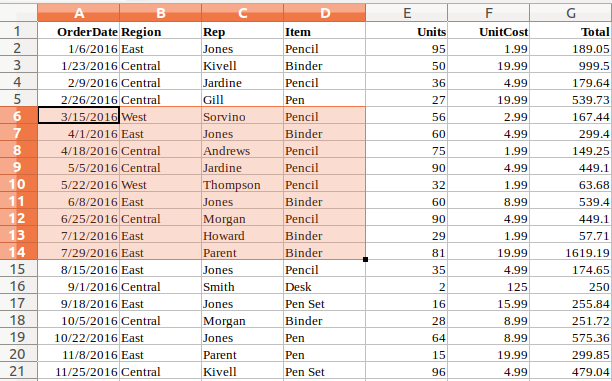 Open the Find and Replace dialog (CTRL+H). Provide Find and Replace string.
Under 'Other options', select "Current Selection Only" and press replace all.
Now you can see only the strings matching "East" inside the selection is replaced. Other non-selected cells strings remains untouched.
Drop a comment if you are facing difficulties or any suggestions.
---
Looking for something else?
Read our complete tutorial index of Calc, Writer, Impress and Draw.
---
---