LibreOffice 6.3 released with more enhancements and shiny features.
The latest installment of LibreOffice 6.3 is released. LibreOffice 6.3 is a "Fresh" version of the popular free and open-source office suite. This version is the bleeding edge version with the newest features of the product of its lifecycle. Intended for early adopters, power and experienced users, LibreOffice 6.3 introduced wide range of new features across its modules – Writer, Calc, Impress and others.
Let's take a look at the features that is introduced in LibreOffice 6.3.
New Features in LibreOffice 6.3
General Features – Across Modules
A new Tip of the Day dialog shows once daily with nifty tips for you!
New Redaction feature which helps you to share document after removing sensitive information with a block of color. This feature I covered when testing the beta release.
You can enable Redaction feature via menu Tools -> Redact. When choosing the redact option, your document opened in Draw from Writer and you can draw grey/black rectangle to remove sensitive information and directly export as PDF.
LibreOffice Macro Programming – Python: A new help page for Python macro programming is introduced as part of this release. You can access it here. If you would like to learn more about LibreOffice macro, visit this site where I write about Basic macro programming.
Filter Improvements – EMF+, PDF, OOXML, Tagged PDF.
Updated Notebookbar with Tabbed UI, Single UI.
Improvement of Form Toolbar.
Icon theme – Sifr and Karasa Jaga gets huge updates
Calc and Draw tabs are more modern and visible
Calc Formular bar scrolling is improved.
New and Improved Writer Features
The "Words With TWo INitial CApitals" AutoCorrect exception list function has been extended to also be considered when changing case in "Capitalize first letter of every sentence" and "Correct accidental use of cAPS lOCK key" functions. This allows avoid auto-capitalization in words like mRNA, iPhone, fMRI. It has been renamed to "Words With TWo INitial CApitals or sMALL iNITIAL".
When you copy from Calc sheet with filtered rows/column, only visible rows/columns are now copied to Writer. Earlier it used to copy entire area irrespective of filters.
Page background colors/images/bitmap now covers entire page, not within the amrgin anymore.
Improvement in bottom-to-top and left-to-write writing in tables.
Import of Microsoft office docx drawingML group shapes to Writer.
Improvements in Form menu.
Performance improvements of loading, saving of Writer files with large bookmarks, embedded forms and large tables.
New and Improved Calc Features
Anchored graphics now can resize with the cell.
New currency symbol Russian ruble is added.
A new dropdown menu in the formula bar for quick access to common functions.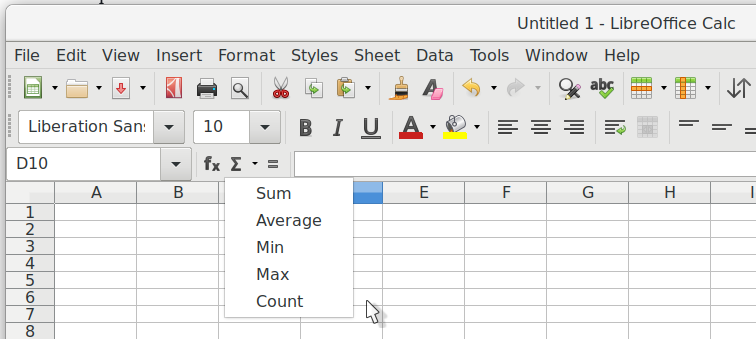 Improvement in statistics sampling function
New FOURIER() function is introduced.
Performance improvement of loading/saving of large ODS files.
Impress, Draw
Improvement of smartArt import from pptx files
OOXML shapes movement is improved
Base
Firebird migration assistance which was experimental earlier, is now enabled by default.
Multiple bug fixes for import and exports.
Read the detailed release notes here.
How to Download
Head over to download link below to download LibreOffice 6.3 for Linux flavours (Ubuntu, Mint etc), Windows and MacOS.
LibreOffice also available as snap app for Linux systems which you can download and install immediately if you want to retain your older version. Follow below commands from terminal to install LibreOffice 6.3 as snap app. If you learn and configure your Linux/Ubuntu for snap – follow this guide before installing LibreOffice via snap.
sudo snap install libreoffice